Thursday, I was in the kitchen cooking lunch before going to the campus. As I gazed through the kitchen's window to the small harbour below, I saw a small duck-like bird swimming in the water. I went back to my room, grabbed my binocular then came back and watched the bird again and I was surprised to see that it was a
Black-necked Grebe
(
Podiceps nigricollis
), a new species to my Beppu List as well as my Life List! Though a common species elsewhere in Japan, and Stu often shows us great photos of this little devil from Hakodate, I have never seen it before. It is also recently found in Thailand. The first individual was found at Bung Boraphet in central Thailand on December 2007. That time I was still in Thailand, but was very busy preparing for my departure to Japan. Terrific images of that individual were all over the Thai internet bird forums, and I just couldn't go twitch. Several more were reported both from the same place and Chiang Saen Lake in Chiang Rai province.
Some of you might remember how last winter offered so many photos of the
Great Crested Grebe
. I already thought it is a common bird around here. Shockingly, this winter I still haven't seen any around Beppu! Last winter it was like everywhere. I've only seen in Oita River a few weeks ago, but Oita River used to hold a
flock
last time. Guess this smaller Black-necked came as the representative! Actually, I first saw it around noon as I've stated above that I was about to have lunch, but as I went down to the harbour, the bird kept staying far in water body and I didn't have time to wait for it cos I had to go to class, so I left and went back to take photos of it again in the evening after coming back from the campus.
Non-breeding
Black-necked Grebe
(
Podiceps nigricollis
)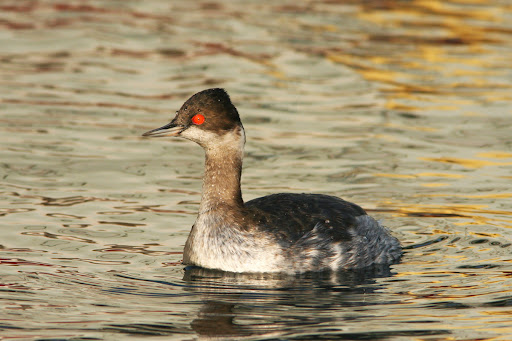 Its red swollen eyes look a bit creepy, and really give it a devilish look. The bird came much closer in the evening, but it was very active in diving, so it's not too easy to get photos. When it wanted to rest, it stayed far in the middle of the water and preened and stretched. There was one specific corner of the harbour where the bird seemed to favour more than any other spots. I sat and waited there until the bird came around and finally got all the shots in this post. Evening light really made the shots look warm, but actually it was really cold and a bit windy. I finally left the place as the sun slowly set behind Mt. Tsurumi with a big smile on my face. I watched the bird dived up and down at dusk for the last time before walking back to my room, praying it will stay for the whole winter.