Well, in case you're getting bored of those Bean Geese, here's some photos of other birds from a nice morning at Sekino-E. The area proved to continually be productive since the start of the month with an influx of
Daurian Redstarts
and thrushes. I even came across a pair of
Chinese Penduline-Tits
(
Remiz consobrinus
) at the edge of the reedbed near the lotus field. It's the first record for Beppu, but I've already seen many of them in Saga. Too bad the birds were too active and I couldn't get any record shot of them. A female
Common Kestrel
was also presenting in the area, but was constantly chased by the crows. I was quite surprised to see several
Red-rumped
and
Barn Swallows
still lingering around instead of migrating to the southern hemisphere.
My best shot yet of the
Common Kingfisher
(
Alcedo atthis
)
Male
Daurian Redstart
(
Phoenicurus auroreus
)
I was very pleased to get the above shot of the kingfisher. It was something really unexpected, as the bird always flew off before I could get any closer than 20 or 50 metres. However, for some reason the bird in the picture didn't seem to notice me, and gave me a rare chance to photograph it at close range and in good light. The redstarts, on the other hand, are so easy to get photos of. They always stay within their territories and are much less wary than the kingfisher.
Female
Daurian Redstart
Japanese Wagtail
(
Motacilla grandis
)
Female
Mallard
(
Anas platyrhynchos
)
A flock of
Common Teal
(
Anas crecca
)
The number of ducks in the lotus fields increased quite dramatically from just a few birds in late October to almost 50 birds in the start of November. They are mostly Common Teals with 1 male Northern Pintail and 1 female Mallard. Last winter,
Furuso-san
, the lady whom I often met birding around the area, found a male Falcated Duck and quite many Mandarin Ducks here as well, so those 2 species become my main targets of this winter.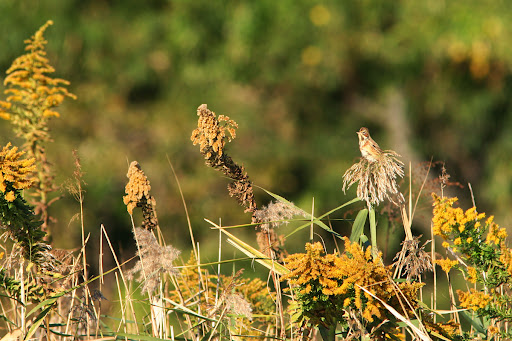 Chestnut-eared Bunting
(
Emberiza fucata
)
Camouflaging female
Common Teal
(
Anas crecca
)
Female
Common Kingfisher
(
Alcedo atthis
)
Few more photos of the female
Daurian Redstart

The lotus fields in Furui-chi area also had lots of Common Teals as well. Most of the teals were either female or eclipse male. I only saw one or two male birds in breeding plumage. They'll fully finish their moults into beautiful plumage soon as winter fully arrives. Another
Common Kingfisher
was also occupying a small block of open lotus fields. This one is a female judging from its almost entirely red lower mandible. However, I couldn't get any decent shot of this individual.
To finish this entry, here's a photo of an adult
Black-crowned Night-heron
(
Nycticorax nycticorax
) taken after sunset at Mochiga-hama. These birds are not so easy to photograph here actually, so Stu should be happy with those tame ones in Hakodate.