I hadn't been to Beppu Koen for such a long time, until yesterday. While I was walking to Sekino-E on the evening of Sunday 21 November, I came across Furuso-san who was about to leave the place. She excitingly told me that yesterday she found a flock of
Eurasian Siskins
(
Carduelis spinus
) at Beppu Koen, and showed me the photos of them. I know most of you wouldn't be excited about this, but I was. I've never seen a Siskin before and from the expression of Furuso-san, I can be sure that it is not something ordinary for her, and Beppu as well. So I hurried to Beppu Koen on the morning of Tuesday 23 in search of the Siskins. From the photos in Furuso-san's camera, I could recognise the place where the birds gathered. It was a tree near a small stream where most of the finches like to come down to drink and bath. After I arrived at the park, I walked straight to the stream and sat down and waited for them. After a while, I spotted a large flock of small birds came swirling passed over my head and landed near the big pond in front of the park. I was sure that were them, so I ran right to the pond, and on the dead treetop, there were more than 50 of these small
Eurasian Siskins
, my latest lifer!
I tried to take photos of them while they're drinking water from the pond, but they were so wary and flew off before I could get any decent shot. They're much more approachable and still while perching on the trees. There were several of their favourite perches. One is near the small stream and another two on the different sides of the pond. They always perched on these trees before coming down to drink. The tree near the stream was also fruiting, and they seemed to enjoy eating the fruits.

There are some other stuffs in the park as well. Lots of
Dusky
and P
ale Thrushes
have already arrived at the park. They were hopping and flying all over the area. Many
Long-tailed Tits
were moving rapidly in a flock joined by a few
Japanese
and
Varied Tit
. The
Japanese Pygmy Woodpecker
also presented as usual, and a lone B
ull-headed Shrike
was also hanging around chasing the tiny Long-tailed Tits.
Japanese White-eyes
seemed to be numerous and they moved in big flocks like the Siskins. Several
Daurian Redstarts
were still showing, as well as the
Grey-capped Greenfinches
although in a very small number.
Japanese Pygmy Woodpecker
(
Dendrocopos kizuki nippon
)
Not only the news of the Siskins that Furuso-san has told me, she also showed me a picture of a
Brown Dipper
(
Cinclus pallasii
) taken at Asami 3 Chou-me as well. I tried to find it in June but failed to see any (though I did succeed in finding the
pheasant
). After photographing the Siskins, I walked from the park to Asami to look for the dipper. As I arrived at the place where Furuso-san photographed it, I spotted a small black bird rapidly flew off towards the river below. I knew right then that it was the dipper since I've seen it many times in India before. Then I saw the bird perching on the bank of the concrete river, dipping its head into the fast flowing water. I tried to photograph it but it was
extremely
shy. I've never been successful in photographing dippers with DSLR before, but it was easy back then with digiscope. I finally realised that there were 2 birds in the area. The photos below are the best I could get from them. I'll definitely go back for them!
Brown Dipper
(
Cinclus pallasii
)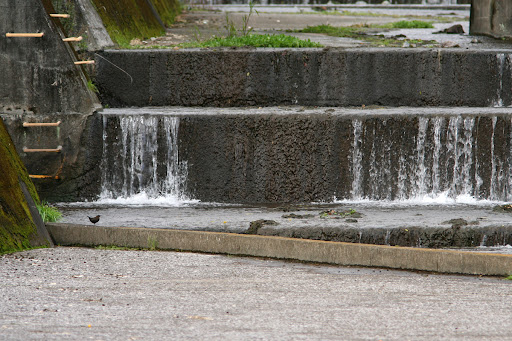 Here's a habitat shot. Never thought there would be a dipper in a dirty concrete river like this.